I saw an ad show up on Craigslist for a dirt-cheap Kayline softtop down in Arlington and checked my Scout fund to see if I had the money available to snag it. Given that new Softtopper units cost ~$1,000 to start, I thought that $50 was a steal for what was offered: "Good for parts or pattern. Could be used, but the rear section is coming apart at the seams. All plastic windows appear to be good. The bows and attachment structures are all there."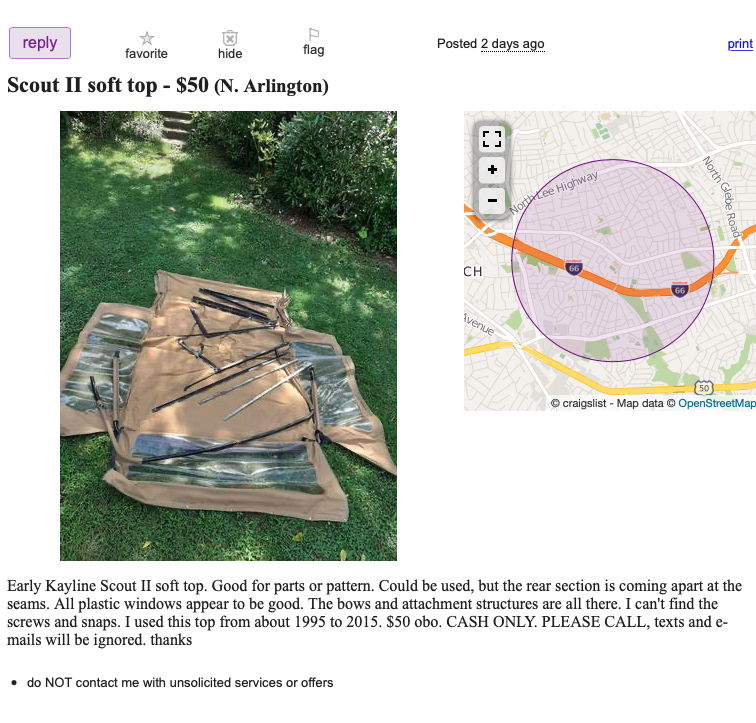 My black soft top has been on the truck since I got it, and it's definitely ratty, but still holds together. I'm no stranger to repairing the canvas—I've restitched the seams on the black top twice. This one is light tan, which could look good or look like shit on Peer Pressure, but for $50 I was willing to give it a shot, especially if the windows are as clear as they look in the ad. Besides, I'd have the sides rolled up 95% of the time anyway. And if I was to repair the canvas section and get it in better shape, with the spare set of bows and mounting hardware I've already got, I could resell it for ten times the purchase price, which isn't a bad deal either.
I called him up and we chatted for about ten minutes; he's been into Scouts for as long as I have and seems like a nice guy. We traded pictures of our rigs and I told him I'd let him know the next time we were planning on a workday.
Meanwhile, I asked one of my designers, who lives in Arlington, if she could go and grab it for me. I Venmo'd her $50 for the top and $20 for beer, and she's now got it sitting in her basement waiting for me to pick up.