I carved out a few hours this weekend to look at the wiper motor assembly, and made a little progress. I was able to unmount the motor from the windshield, link the arm up with the motor housing, attach the clip, and rotate the motor enough to get it close to the mount points. That was where things got difficult. The torque on the motor is enough that I couldn't rotate it on all three axis to get each of the three bolts to go in cleanly. No amount of cajoling, pushing or pulling would give me the leverage I needed to get it in properly. I figure what they did at the factory was put the motor and arm in as one assembly and then link the arm up to the passenger's wiper arm. I tried disconnecting the linkage there, but couldn't disconnect the two arms from each other for love or money. Out of time and patience, I bolted the motor up tightly at one point, put the cowl on, and left it until spring.
This evening after the sun went down, I cracked the cowl on Peer Pressure to start troubleshooting the wiper issue. I ran the engine up for about ten minutes in the afternoon when I got back from Harbor Freight; in the bag was a battery charger and a test light (along with an oil catchpan and an air fitting for my compressor).
Looking over the connector to the motor, I put the test light on it with the key at ACC and the wiper knob on low. After I found a consistent ground, the hot wires tested good. Puzzling.
I put my tester on it and got power in an acceptable range. More puzzling; it was looking like the motor was bad. I peeked under the cowl to size up the bolt positions, and…
…realized the wiper arm was sitting on the bottom of the inner cowl. Which meant it wasn't connected at all. I reached in and verified it was completely loose. I cleaned the contacts in the connector with some sandpaper, hooked it back up, got back in the truck and turned the wipers on low. Immediately I heard the whirring of the motor. I'd never checked it with the engine off, so I celebrated with a smack to my own forehead.
Now the problem is getting the motor off the mount so that I can access the arm linkage enough to slide a spare clip on the housing. As I was coaxing the first of three bolts off the ladies called me in to dinner, so I tightened everything back up (the forecast is for 0% rain for the next couple of days), hauled all the tools inside, and called it a night.
Last night I cleaned off my overloaded workbench, dug out my service manuals, and lined up three spare wiper motors I have in my stash. Right now the wipers in Peer Pressure are defunct, after three years of working without a problem.The stopped working when I was in Chestertown killing time with Brian waiting for the welder, and I got stupid and started fooling with the bulkhead connectors.
My troubleshooting workflow should look something like this:
Pull the cowl cover off, disconnect the power lead to the motor, and test it for power.
Check the bulkhead connector for power.
Test the switch on the dash.
Pull the motor itself, pull it apart, and see if it's seized up.
But, because time is limited, I'm a curious guy, and I frequently do things out of order, I decided to pull a few of the motors I have apart to see how they work. I'm starting with one very clean motor and two that have more miles (and grease) on them, but all three are identical. I cleaned the gunk off two of them, cracked the manual, and got started.
Disassembly starts with the switch side, where the arm connects to the housing. Pulling the top off the housing reveals two contacts and a gapped brass plate, which is how the the motor handles delay. Under the plate is a round plastic toothed gear which fits into a worm screw connected directly to the motor itself.
Pulling the cover off the other side of the motor reveals both brushes and the commutator, and inside the housing, the field coils. The clean motor looks almost brand new, while the second one contained the amount of dirt I'd expect from a 30-year-old truck.
I left all the grease in place, closed the motors back up, and decided to wait until I pick up a cheap battery charger to bench test everything with 12 volts. Harbor Freight has one for $20, which fits my budget perfectly, and I may run out and pick it up this weekend.
This morning, a forum post came up on the Binder Bulletin with wiper arm information, which reminded me of a Scout story from years ago:
When I was in college, I borrowed my roommate's Traveller to drive myself and two friends to D.C. to attend an evening seminar at the Smithsonian. On the way down, it began to snow, and it was at that point (late for the seminar, we were doing 65mph on I-295 in late January) that the wiper motor died. We found some string in his parts bin in the back and tied it to each of the wiper arms, then ran it through the butterfly windows so that my passenger could pull it back and forth, effectively cleaning off the windshield. We made it to the seminar and drove it home like that, too.
Now, at the risk of drawing the ire of anyone over on the Binder Bulletin, I'm going to repost some of the information I've found useful here, with a direct link and attribution. (I'm not casting aspersions on the admins of that great site, but I've found that information residing in web forums tends to disappear or move unexpectedly, usually at the point when I need it).
(1) If you still have the stock wiper arms, then there are only a few sources for replacements, but apparently NAPA has their 11 inch "Classic" wiper blades which should be an OEM replacement. I didn't go that direction because I like more variety in wipers.

(2) If you want to use commonly available wiper blades, you can install ANCO replacement wiper arms. 
ANCO Part: 41-02 (Passenger Side Wiper Arm)
ANCO Part: 41-03 (Driver Side Wiper Arm)

The previous owner may have already installed these for you. You probably have ANCO replacements if the wiper arms have small gray friction discs at the end that allow you to adjust the blade angle.

Once you install the ANCO arms you should be able to use them with most after market blades.

I believe OEM blades are 11″, but I like to use 13″ heavy duty winter blades for better durability and coverage. The ANCO 30-13 13″ Winter Blades work pretty well.

Here are some sources for Wipers/Arms:

NAPA: http://www.napaonline.com Classic Blades. Not cheap, but if you're staying stock it's a good source.

RockAuto: http://www.rockauto.com Has the ANCO wiper arms and blades at competitive prices. Arms: $9.05, Blades $4.55 as of 01/19/09. This only issue with them is they ship from all over creation and sometimes the shipping can get out of hand for small orders of obscure products. 
Given how old my wipers look, and how hard it is to source parts for Scouts, this is great information. I used to have two spare pairs of Anco blades in my old parts bin, so I'll have to restock. Luckily, I have a spare windshield with a wiper motor still attached and all the linkage up to the wiper blades.
Update: The Binder Bulletin went down for maintenance only a few hours after I wrote this.
Update 25 Jan 2009: I just got a friendly email from the original author of the forum post, who added this new information (and kindly passed it along to me):
If you just want to use 11 inch wipers (the original length from IH), most manufacturers blades should work with the ANCO arms including (no suprise) the ANCO 3011 (11 inch winter wiper blade).
If you like the increased coverage of the 13 inch blades (and who doesn't), then you can't use any old blade. In particular the ANCO 13 inch blades were problem. The blades themselves are high quality, but the two connectors that come with them are (a) a direct connect for baton-style arms and (b) a quick connector for baton and possibly other arms. The problem is that you can't use the regular connector because the baton jack on the connector is too shallow which prevents the ANCO baton from clicking in. The quick connector is fine, but it makes the total arm length too long and the tip of the ANCO blade then exceeds the windshield height when sweeping.
Two 13 inch blades use connectors of the correct length are the Trico 37-111 and the Duralast 13″ winter blade from Autozone. While the Trico seems to be a fine blade it doesn't have an adapter for the 5mm bayonet of the smaller ANCO arm (the passenger side).
That leaves the Duralast 13″ winter blades I found at Autozone which come with both 7mm and 5mm bayonet connectors. The Duralasts look almost exactly like the ANCOs, but they have blue instead of red tips on the end. They're made in China (if that matters to you.)

So the current out-of-the-box score is:

For 13″ Blades and ANCO Arms you'll probably need to use the Duralast 13″ Winter blades from AutoZone. No quick connects, but they're the right length and have both 5 and 7mm conectors. A decent compromise.
For 11″ Blades and ANCO Arms the ANCO 3011 11″ Winter Blades are well-constructed, look good and the connector options are excellent. Their bayonet connector is 7mm, but they comes with 5mm adapters. They have quick connectors for swapping them out and their bayonet sockets can be easily unlocked from the ANCO bayonet should the need arise. The bayonet lugs on the Trico and Duralast are difficult to remove, doubly so since there aren't any quick disconnect options.
I had a little time Saturday afternoon, in the 70˚ weather, to look over the horn situation on Peer Pressure. The horns are located behind the driver's headlight on the front side of the radiator support, so you have to pull the headlight to access it. What I didn't realize is that there are actually two horns, wired in sequence.
You can see both of them in the shot above: The first one in line is mounted straight to the support, facing downward. The second is to the left, mounted on its side. Clearly, one of them isn't working. I pulled the wire from the first horn to see which one was bad; the second horn fired just fine.
So, I cleaned up the wires on my Mercedes horns, grounded one lead to the body, and hooked the other one to the hot wire. Here's the difference (Mercedes horns first, stock horn second):
The stock horn is welded to the mount, so I can either cut it off and reuse it for the Mercedes horns, or fabricate a new mount. The stock horn is toast so I don't see much use in keeping it.
But I don't know if I like the tooty sound of the Mercedes horns either.
On Sunday I was back out in the beautiful weather, and went through some of my small parts bins to organize what's out there; I've been squirreling stuff in there for years and I've lost sight of my inventory.
Most of the stuff in these three bins are smaller parts—going clockwise, I've got a lot of lights, light buckets, and mounts, as well as lenses. At 5 o'clock there's one door scissor—I don't know what side—and three wiper motors. At 7 o'clock there are two plastic defroster vents. Above that I've got a set of door hinges that weigh about a thousand pounds. To their right are a set of drum brake pads (they are now with their mates on the shelf). There's a fuel pump at 9 o'clock, several wiper and door lock linkages above that, and two kick panel vents above that. In the center there are several tubs and envelopes of hardware, a spare washer bottle, and two door lock assemblies.
In some of the smaller tubs I've got a spare set of outer doorhandles, six window cranks, six inside door handles (four left and two right) and two pairs of wing window locks (the part that sits on the top of the triangle). There's also a tub with wing-vent plugs—anyone with wing-vent windows knows what I'm talking about.
One of my next steps is to purchase a third parts organizer to split out the Scout-specific hardware I've got scattered among boxes and bags—the stuff that's expensive to replace. Things like the allen bolts that secure the window crank to the door, the shallow locknuts that hold the door hardware in place, or the gigantic bolts that secure the door hinges to the chassis. Having all of that in one place would make life much easier.
I'm also going to have to add some new large bins for the oversized parts that are loose on the shelf.
As with 2018, I did get a lot of my 2019 list taken care of. The radiator and caster shims were a big improvement, and having the rear U-joint fixed was expensive but necessary. Little things like the hood strut and the front speaker were great quality-of-life improvements that I was happy to have. But this is a 40-year-old truck, and issues need to be addressed:
Fix the speedo cable. While I've got the main assembly out of the dash, I'm going to clean the contacts for all the bulbs, replace them with LED bulbs I've got standing by, paint the needle with fluorescent paint, and polish the plastic.
Buy a new starter. The unit Bennett and I swapped in a number of years ago was a used part from his stash, and on one of every five starts I get the I'm-not-fully-engaged sound, which tells me the solenoid is going bad. I'd like to get a new sturdy unit in there so that I'm not worrying about it.
Pull the wiper motor back out and re-adjust it so that the arm geometry isn't oriented below the windshield and the motor is fastened in with all four bolts.
Replace the windshield with a new one. Mine is absolutely terrible; I don't know if a pro installer would even work with me given the condition of my windshield frame. I'm not the only one who needs this, and guys have talked about doing a windshield installation party, so I may push for this in 2020.
Re-route the speaker wire. This has been needed for 10 years.
Clean out the engine bay. I talked about doing this last year and ran out of time. This is basically wrapping the carb in plastic, shooting the engine bay  with degreaser, and then hosing the whole thing out. I'd have to do this somewhere other than our house now, though, because I don't want to dissolve our new driveway.
Put the new battery inside a marine container, and replace the battery tray. My existing tray looks like it's been floating in saltwater and I'd like to try and save the inner fender before it dissolves that too.
Fix the driver's side manifold-to-exhaust leak. I have the bolts; I just haven't gotten to this yet.
Sandblast some of my spare sheet metal and prep it with sealer. I have a compressor but not the sandblasting kit, and there are a lot of parts I'd like to clean up.
Now that Brian has a new Scout, we were excited to bring both of them to Nationals for the 30th Anniversary show.
He stopped by the house at quitting time and we shot the breeze in the living room while waiting for Bennett, who was finishing up work, and Ray, who had driven down from Pennsylvania and was waiting for Bennett at his house. They got in at about 5 and we hit the road soon after. Bennett and I took Peer Pressure while Ray and Brian took his Scout (as yet unnamed). Both trucks ran great to Brian's family's house on the West Virginia side of the Potomac River, where we were staying the night. We got in at about 8:30 and had a beer or two from the keg on the porch, and then bedded down in a camper out behind the cabin.
The next morning Brian and I were up early and ran into town for bagels, coffee creamer, and Clif Bars for the road. We fueled up on coffee, said our good-byes and hit the road by about 9:30. I followed Brian's truck for a good portion of the trip out and back, as he's running a 4-cylinder and doesn't quite have the same power to climb the hills in West Virginia as I do, but his truck ran great and stayed steady at about 65-70MPH the whole way.
Somewhere in West Virginia we stopped off for gas and followed our noses to a barbecue stand sitting out in a field. It was made up of a pavilion covering two giant smokers next to a rattletrap trailer, with a couple of picnic benches nearby. I selected the pulled pork sandwich with coleslaw and pickles. Holy SHIT that was a good barbecue sandwich. We all devoured our food, thanked the owners, and got back on the road. That location also got noted for future reference.
The rest of the trip was pretty uneventful. Bennett and I switched off driving after he was somehow able to take two calls and get a bunch of work done on his laptop—the second one during a downpour. We chased and outran several storm fronts but got caught in two showers, the second of which was enough to make me worried for a few minutes. Peer Pressure's wipers aren't exactly sprightly, so I'd doused both our windshields with Rain-X before we left, and that really helped my visibility. What didn't help was the rearview mirror deciding it was going to fall off during Bennett's leg; we threw it in the glove compartment and left it there for the rest of the trip.
This is the first time I've had her out in a rainstorm in years, and it was alarming how much water came through the bottom corners of the windshield. I've got to get working on one of the spares in the garage to get it cleaned up, weld some patch material inside, encapsulate the interior, and get it ready for new glass so that I can swap it out. Not that I plan on driving in the rain any more, but still.
Coming in to Troy we headed straight to the hotel and found some spots in the parking lot, which was already full of Internationals of all stripes. We knew a bunch of the people out there and immediately found ourselves split off into multiple conversations with old friends and new. At some point we checked into the hotel and moved our bags upstairs, and Brian and I took his Scout up the street to the drive-through liquor store for some beer. His Scout is beautiful but has manual steering, so I was completely unprepared for the effort it took to make course corrections at a standstill. On the road it was a dream to drive, and felt more like a roadster than a truck. I do like my synchronized first gear, though: I ground his gears more than once and winced every time I did it.
Back in the parking lot we met up with a great guy named Todd from Hill Country Binders down in Texas, and shot the breeze with him. He's got a project Scout he's disassembled in his garage which is suffering from some scope creep. Because we ate lunch late in the day our clocks were off by a few hours so we wandered over to a local restaurant and got a booth all to ourselves. Todd explained where his truck was at present and we all offered our own bits of advice. Toward the end of our meal a man stopped by the table and told us he'd noticed our IH T-shirts and said he'd spied an old broken-down International pickup about 10 miles north of town in a storage lot, and would we be interested in it? We got his information and thanked him for the tip.
Then we wandered back to the parking lot and stayed up talking with people until about 11:30, at which point Brian and I called it a night. Bennett, ever the social butterfly, came in at around 2AM.
Morning one of the show broke early. Mercifully I didn't feel any of the beers I'd had the night before, and the coffee at the hotel was reasonably good. We got on the road early because we'd learned the year before that all of the good parts for sale went early on Friday morning. So we hustled to Tim Horton's for some coffee and donuts and got to the fairgrounds by about 8:30.
Brian and I registered our trucks and parked them and we walked over to the parts selection to browse. It's amazing what people can dig out of a shed or haul in on a flatbed: piles and piles of sheetmetal, boxes of parts, tires, wheels, hardtops, whole front clips, and a row of different trucks, some in excellent shape and some real beaters. Dan Hayes pulled a bunch of parts off his truck from Oregon and sold them as fast as he could put them down. Several trucks were pulled out on flatbeds that morning.
I saw two things I was interested in and paid nothing for one of them and probably too much for the other. The first was a kick panel vent for the passenger side, which my truck didn't have because of the A/C setup. The giant condensing unit sat directly in front of it, so IH covered it with a blockoff plate at the factory. Now that the A/C unit is gone, Bennett's feet were roasting on the trip so I found one and got it for $5. The other thing I needed was a passenger wing window: the spot weld on the upper hinge has come loose so the window flops around in the frame. I found a decent one inside a covered trailer packed with parts (chrome, like mine) and paid $50 for it before realizing the hinge on that one was fixed with a booger weld of its own. I can probably file it down and clean it up, but I was a little bummed at that. (I have several spares in the garage but I don't know what quality they are, and I know for a fact that the bottom weld inside the door on one of them is split).
We then sat in on Mike Moore's body panel seminar in the big hangar, which was good but a little hard to hear. He had some excellent advice for getting doors and panels to align correctly, and some sobering views on how IH engineered our trucks to rust from the factory.
We met up with Todd and hung out with him off and on for most of the day, each of us splitting off and meeting back up at various points as we met people we knew or made new friends. At one point we got to talking with a guy in a floppy hat who introduced himself as David from Ohio by way of Colorado, and he offered us a beer. Well, we don't mind if we do, we replied.
Wandering the grounds with David for a couple more hours, we stopped to grab a bite to eat, and he told us about his truck—which he drove in but had left in the parking lot with the hood up. We, of course, needed to see it in person, so we walked out there and looked it over. He comes from my school of thinking, in that he'd rather drive it than look at it in pieces, so there are sections of rust and multicolored panels and no driver's seat and a big hole in the passenger's B-pillar where he's welded in new supports to make it driveable. As we looked over the engine Brian noticed that one of the plug wires wasn't connected and David pulled it off to reveal a corroded tip.
After joking about how the parking lot at Nationals was the best place he could possibly have broken down, we wandered back in to the grounds to see if we could find a spare wire somewhere in a parts bin. We did in fact find a female plug wire for a Holley distributor but it turned out the insulator was too narrow. He wound up fabbing a wire and connector with some parts from another vendor and hooked things back up. (He made it home that evening). We bugged him to come back the following day and register his truck, and he said he'd think about it.
While farting around in the parking lot, I busted out my screwdriver and replaced the blockoff plate on the driver's side with the new (old) knee vent, inhaling several pounds of dust from the insulation left on the firewall. A few tugs on the lever and fresh air was entering the cabin on the right side. Which is great, because the heater valve is stuck open.
We decided to head out at about 5PM to go get some burgers at K's, a local diner in the middle of Troy that our friend Steven brought us to last year. We grabbed Jeff on our way out and the five of us found three parking spots on main street. K's hasn't changed a lick in a year, and we settled into a comfortable booth by the door where the air conditioning felt great.
Back at the hotel, we downed some water and then cracked into some local craft beers with friends, talking and telling stories and meeting new people until about midnight.
Saturday morning we were sure to get up early for breakfast so that we could stop out at the abandoned truck we'd been told about. What we found was about 10 years past its expiration date; an old 60's model with a stepside bed, copious rust, and four tires sunken into the gravel. We walked around it and poked at the crusty bits and tried to get the doors closed after opening them (the passenger side was a bit reluctant) and said a little prayer for it. Then I handed Todd the keys and told him he was driving back to the hotel. He'd only driven one other Scout before, his friend's, a fact I'd quietly noted the night before when he mentioned it, so I figured he needed some additional motivation to get his Scout put back together.
Once we got back to the hotel, Brian handed him the keys to the white Scout and he drove that to the fairgrounds. We all immediately went to the fuel injection seminar hosted by Bill Hamilton, who imparted 30 years of wisdom in an hour and a half. I left feeling exhausted by all that I'd forgotten to remember, but realized I wanted fuel injection a hell of a lot more now.
On my way out the door I stopped at the IH Parts America booth and picked up a gas-powered hood strut, something I'd been wanting for several years. I dropped it off in the truck and Brian and I began making our way down the first line of trucks. We kept getting sidetracked by conversations with people, remembering to look for something, needing food/water/bathroom, so I don't know if we actually made it around to see all of the displays and vendors.
Somewhere along the way we ran into David, and he had in fact registered and parked his Scout in the grounds. We spent the rest of the day on line at the hot dog stand (actually, just 20 minutes, but it felt like the whole day) and then continued down the lines of trucks. There was a ton of stuff to see, and every truck had a different story.
At about 4 in the afternoon, we were pretty beat. We wandered back to Brian's truck and set up our camp chairs under Ray's awning and relaxed for about a half an hour. Then we decided we'd better mosey back over to the hotel to get a reasonable parking spot before the barbecue started. We said goodbye to David and got on the road. I peeled off to get more beer, and found a spot right next to Brian in the hotel parking lot.
The barbecue itself was something to behold: last year they didn't do it for various reasons, but this year Mary and Carl fed something like 650 people in under 45 minutes. I dumped all of my available cash in the donation jar and loaded up a plate with food. meanwhile I struck up a conversation with Matt from California, who has several Scouts (surprise) and lots of good advice.
Then we all oriented our chairs toward the bed of a pickup where Ray was preparing to auction several tables worth of merchandise. This year, as with last year, I didn't win anything, but the raffle and and auction were fun.
Sunday morning we woke as early as we could and fueled up in the lobby of the hotel. Other folks were gearing up to leave, and we said our goodbyes before loading the trucks. We decided to make a stop at Super Scout Specialists, which is now directly on our route home, as they were open for several hours that morning. The new shop is, I'm told, much larger than the old one, set in a smaller town outside of Springfield, with a huge showroom and warehouse on one side and a long machine shop on the other. The whole thing is impressive. I've wandered through Scout vendors before, and I've stumbled through parts barns before. This is a well-organized, spacious collection with tons of inventory.
We stopped for some photos in the parking lot and then got back on the road; we had a long day ahead of us. Bennett and I switched off driving again, which made the trip easier to manage, but the heat and humidity had come back in earnest, so we were much hotter than on Thursday. We straddled weather fronts through most of Pennsylvania—tornadoes to our north and thunderstorms to our south—and only hit one section of rain the whole way. Somewhere in West Virginia we hit traffic due to a lane merge, and I noticed the temp gauge creeping up past the edge of the white indicator line. It settled somewhere about 1/3 of the way along the line and stayed there even as we stopped and started and went no further. I think this is going to be my new normal in this truck, but I'll have to try putting a real temperature sensor on it to see what the actual reading is.
We stopped off in West Virginia to transfer gear and pick up Ray, and said goodbye to Brian, who was going to stay over at the river. Then we headed back to Catonsville to drop off Ray, who still had a 2 hour drive to his house in Pennsylvania ahead. I drove Bennett back to his house and then came home, happy to shut the truck down at 8PM after a long day on the road.
By my recordkeeping, the gauge on the truck says we drove 955.6 miles, including back-and-forths to the event and hotel. Google says we drove 1051.2 miles, give or take a few—the discrepancy is due to the larger tire size vs. stock speedometer calibration. We put a total of 89 gallons of gas in the truck, which averages out to about 12MPG. Not great, but it could have been worse—and, we did a lot of climbing through West Virginia and Pennsylvania.
Some things I need to address:
The fuel tank still leaks from the top when it's filled, which isn't the safest situation in the world. I guess I'll have to drop it and reseal the sending unit. I should also rig up a pressure relief system—I wonder if I still have any of the evaporation gear in the driver's quarter.
I have to reinstall the rear-view mirror.
I have to replace the passenger's wing window. It sucked to have to keep that closed the whole way home.
I need to readjust the wipers: the wiper arms are oriented too low to the windshield so the bottom of their arc is somewhere below the gasket. I have to open up the cowl and properly fasten the wiper motor anyway.
I should have the coolant system properly flushed now that we're home.
I'd love to clean the underside of the transmission tunnel and cover it in Dynamat… but I don't know if I'll ever get to that.
Somebody stuffed a note under my wiper blade at soccer practice last week that said "I like your truck. Would you be interested in selling?"
Nope.
Wow, I actually knocked a lot of stuff off the 2018 to-do list. Tires, Hagerty insurance, and Hydroboost are all some big accomplishments compared to years past. I'm feeling pretty good about everything, and Peer Pressure is running strong. Still, there's more that can be done:
Buy a new aluminum radiator and install it. Climbing the hills out of West Virginia I noticed the temp gauge climbing perceptibly, something I've never seen it do since I replaced the water pump 9 years ago. The overflow bottle isn't hooked up because the nipple at the filler neck came unbrazed years ago, and the cooling system needs a flush anyway. Done!
Oil and gear oil change. It's been 8 years since the first one, and even though mileage is low, she could use some new fluids.  Done! This time I'm going to put Rotella 15W-40 diesel in, for the additional zinc. I didn't use Rotella, however.
Sandblast, paint and install my spare set of valve covers. I've got a truck valve cover set with a long filler neck, and now that the Hydroboost is installed I can actually use them. This will make the addition of oil easier (and cleaner).
Buy caster shims and install them. There's more work to do to fix the new steering issues. Done!
Fix the heater linkage so that the heater actually shuts off. The valve in the engine compartment is stuck open, and needs some work to loosen up.
Fix the windshield wiper motor mount and linkage. The wiper arm on the passenger side is too low and strikes the edge of the windshield, and the whole thing is very slow.
Buy a 4×10 speaker and install it in the dash. So that I can hear the stereo at speed. Done!
Re-route the speaker wire. This has been needed for 9 years.
Rebuild the spare carburetor (finally).
Buy a hood gas strut and install it. It would just be so much easier to open and close the hood this way. Done!
I'm home late on Sunday night from the IH Nationals. I smell like exhaust, summer air, sweat, and Dairy Queen. I'm sunburned on my face, nose and scalp. My shift leg feels like rubber. I've got grease caked under my nails that I have to clean out before bedtime. But every mile was worth it, and I'd like to do it again next year.
My first leg was from home to West Virginia to pick up Brian. I made an early morning appointment to have the alignment done because the new wheels make the truck wander at speed and I don't like that too much. I waited in the parking lot for about 45 minutes before the guy got her up on the rack and after that it only took about a half an hour to get it dialed in. He said everything looked good, but the wandering was still there when I got on the highway. It took about a half an hour to get used to the new handling at highway speed, but once I settled in it was OK.
In West Virginia I picked up Brian at his family's river house and we got on the road in short order. We were both excited to be in a Scout going to Nationals, so we were smiling like idiots the whole way. The weather was beautiful for the entire day so we put the soft top down and rode like that for most of the day in cool 80˚ sunshine. As we chased the sun West it lowered into our eyes so we put the bikini top on somewhere in Ohio and stuck with that for the rest of the day.
My previous calculations on fuel consumption put the average somewhere at 10mpg, and the venting on the fuel tank is still wonky, so she only likes to take about 8-10 gallons at a time at the pump. This meant our range was somewhere around 80 miles/1 hour between fill ups, and after a couple of stops it bore out the theory. We switched off driving so Brian got some wheel time and he got to scare himself when the truck would wiggle at speed.
Along the way we were given thumbs-ups and smiles and had our pictures taken; a helpful man in a pickup also let us know one of the license plate bolts had loosened itself with all the rattling and escaped somewhere in Pennsylvania. We pulled over and Brian asked if I had a zip-tie, to which I laughed as I pulled a bagful from the console. Once it was secured we continued on our way (and when the other bolt rattled itself off in Ohio we just zip-tied the whole thing on).
We pulled into Troy at sunset, following some signs for the WACO airfield, and suddenly found ourselves passing it. I pulled a quick U-turn and we drove onto the grounds to preview the site. Most people were out at dinner so we asked some of the few people milling around about timing for the next day, shot some quick pictures, and then went to find some food and a cold beer. We had to settle for an Applebee's but the beer was cold so we didn't complain.
Across the street at the hotel, the parking lot was filled with people and Internationals. I found a spot next to a familiar Maryland Scout owned by a friend of ours and we put the soft top up before checking in. Then we made a drink and wandered down to talk with some people until about 10, at which time we became pumpkins.
The next morning we were up early to get cleaned up and fed, and then we made our way to the site via a Tim Horton's closer to town. I pulled onto the field and parked in the Scout II row, put the hood up, and got her ready. As we walked in to get registered I passed a couple I follow on Instagram who have a beautiful Scout they've been restoring and we made introductions. They walked with us to the registration desk and we filled out the paperwork and got our swag. I decided to have Peer Pressure judged for a laugh. Once we got that sorted out, we started walking the grounds.
At Carlisle there were a lot of Scouts but this was IH Mecca. There were more shiny new Scouts than I'd ever seen in one place, and they were out on the grounds and being driven regularly. There were the requisite lifted, caged, dieseled Scouts and there were rusty old original Scout 80's with sliding windows and no seat belts. There was a gorgeous mid-60's Travelall pulling a vintage Airstream. There were giant IH cabover tractors lined up in a row. There was a 6-door Airport Travelall. It was overwhelming.
We started with the parts vendors first, and I scored some bolts for my door hinges, which are missing, as well as four spare bolts for the bedrail caps. We were blown away by the sheer amount of stuff for sale (and this was the second day; apparently Friday is parts day) big and small. Everything from nuts and bolts to entire NOS quarter panels is available; there were trailers stacked with axles, body shells, and a few very clean turnkey Scouts as well.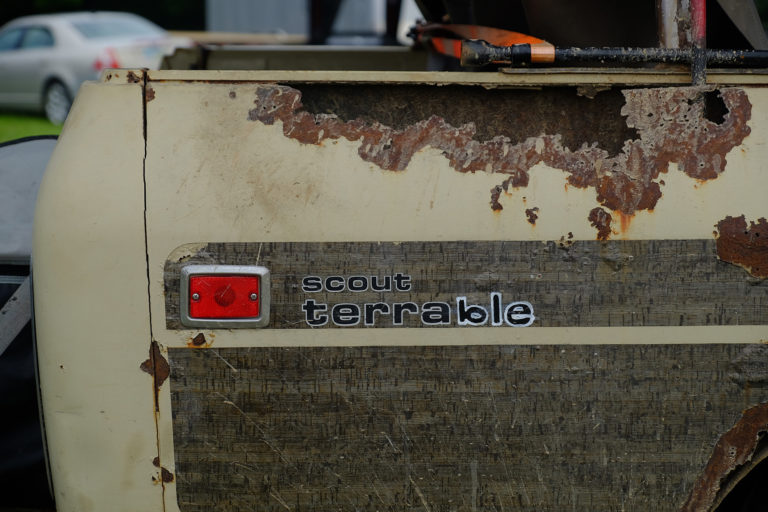 From there we started looking at the display trucks, and that took the majority of the day. There were show-ready Travelalls, pickup trucks, and Wagonmasters (the El Camino version of IH's Travelall). There were street-rod versions of the same, many with donor engines and drivelines.
We started down the line of Scout II's and had to stop when we got 1/3 of the way for lunch. At the table we met up with a fellow all the way from Australia, who has a gaggle of Scouts, runs a club, and has been driving them for years.
From there we continued looking at the display trucks, stopping only to put the top up on Peer Pressure when gray clouds rolled in and rain started falling. Luckily it only rained for about 20 minutes and then cleared itself up; We spent that time in a tent filled with immaculate examples of IH's entire range of trucks and even a Q-tip ready Farmall tractor. I looked at a Midas Traveler which, minus the outside paint job, was the spitting image of my college roommate Pat's Traveler down to the brown plaid captain's chairs and shag rug.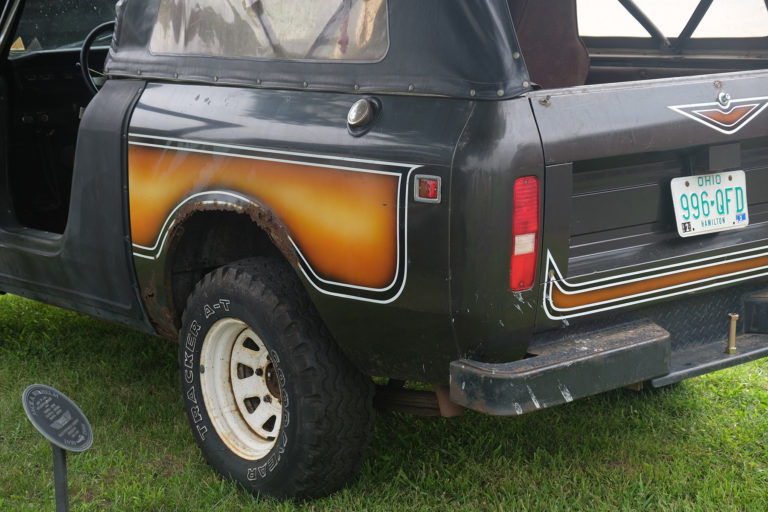 Once the rain passed we finished the displays and wandered up to the hangar where we ran into a bunch of friends, including Dennis, who had been one of the main mechanics on Peer Pressure's brakes. We mentioned the wandering issue and he told us to get a Straight Steer bar and he'd help us install it in the parking lot. Never one to turn down knowledgable help, I ran to the Super Scout barn and grabbed the last one on the table.
By 4 o'clock Brian and I were pretty walked and talked out. We hung out in the barn for a while, waiting for another shower to pass, and made plans to follow Stephen into town for burgers and shakes at an old-school diner on Main Street. K's is right out of the 1950's from the interior decor to the paper hat on the head of the grillman, who knew Stephen from sight. Those burgers sure did taste good.
On the way back to the hotel we made a brief stop at a Harbor Freight for some box-end wrenches and a deadblow hammer and then found a parking spot before the raffle/auction started. Taking 1/2 hour to relax and kick back in our room, we poured some drinks and checked in with families, and then headed downstairs to join the crowd.
For years, there's been a Saturday barbecue, raffle, and auction after the main show, held in the parking lot of the hotel. People bring all sorts of things to donate, and the entire pot goes to charity. They've raised tens of thousands of dollars each year, and the whole thing is a lot of fun. Dennis found us pretty quickly after we came outside and ran for his tool bag; with the tools I'd bought and his ratchet, we had the steering pump loosened and the Straight Steer into place with little effort. In 20 minutes we had the whole thing buttoned back up. Once again I thanked Dennis profusely for his help. Scout people are the fucking best.
Then we settled in for the raffle and auction. I'd bought 12 tickets, 6 for cash and 6 with my entry fee, and as usual, I didn't win anything. (I had my heart set on a $500 gift certificate from IH Parts America. Oh well). The auction was fun, but I didn't have a whole lot of cash left after the Straight Steer purchase and anything I wanted got bid out of my range pretty quickly.
I bumped into a nice fellow who asked about the safari top on Peer Pressure and the subject turned to the tires stacked in back; I didn't have any bites on them at the show but he seemed interested when he saw them. As the night went on he thought more about it and told be he probably couldn't do it. We stood and drank and talked with new friends and laughed until about 11, and by that point Brian and I were pretty crispy.
In the morning we got packed up early to leave, had some hotel breakfast and said our goodbyes, hit Tim Horton's again for real coffee, and stopped off at the showgrounds for a toy for Finnegan. On the way out we saw the nice folks from @International_Camp_Bus striking their campsite and we traded a wave as we pulled away.
The ride back was quieter than the ride in; both Brian and I were pretty tired so conversation was more subdued. Peer Pressure drove maybe a smidge tighter, but the tires are still wandery in the tractor-trailer ruts and across expansion joints. It's really a combination of the tires and the springs: the tires want to move around and the springs like to unload at speed, so just when you need some control the weight floats about six inches above the suspension and the steering gets squirrelly. And this with two adult males and 350+ lbs. of tires in the back. Amusingly, the engine and gearing are happy at 65mph and would easily do 70+ if prodded.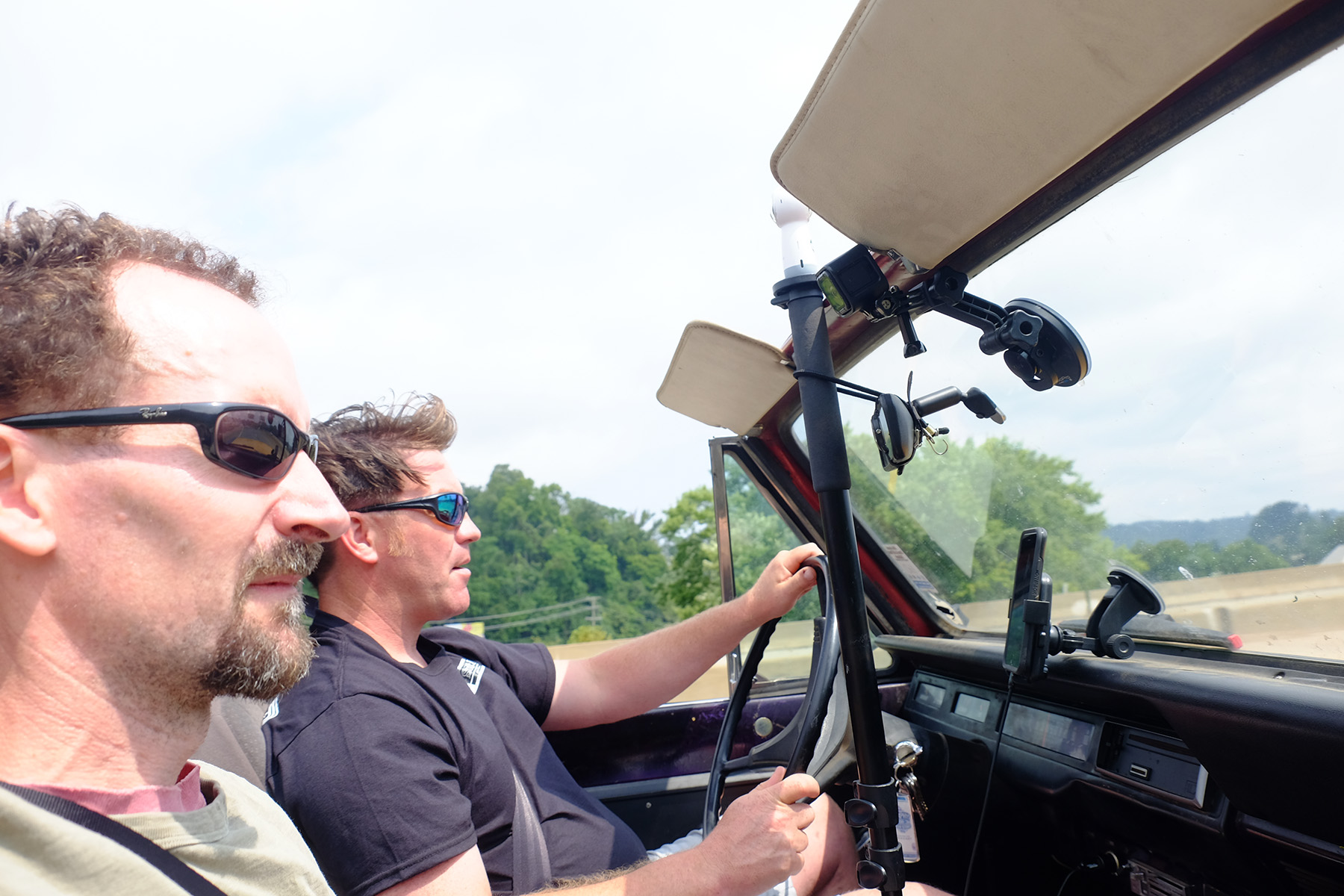 The sky was overcast for the whole way out of Ohio and through Pennsylvania/Maryland; it was only when we crossed the bridge into West Virginia that we got sunshine over our shoulders. I dropped Brian off at the river and stayed for about 15 minutes to stretch my legs. They offered me a dip in the river but it was 6PM and I was itching to be home, so I got back on the road.
The sunlight stuck with me on 70 into Maryland, and I was feeling good about getting home at 7 until I came upon brake lights going up a hill. As I slowly crested it I saw why: a rainbow crossed over the valley I was dropping into, and my heart rate increased a little. As I climbed back out of the valley the road got wetter and spray started kicking up in front of me. My wipers are functional but not at highway speeds, so I rely on Rain-X to keep the windshield clear. And, the soft top was completely folded up behind me. As I crested the next hill, fortune smiled upon me: a rest stop was directly ahead. I pulled off and put the top up in a light drizzle, then looked at the weather radar to see what was overhead: a small cloudburst was directly over I-70 and following it east about 5 miles ahead of me. As I waited the rain stopped and the residual heat started drying things out.
I figured I'd be smart and wait it out, so I killed 20 minutes making notes on the trip and then nervously got back on the road (after hoisting all the electronic gear and dry goods to a high spot on a tire in the middle of the truck). Fortune smiled on me again, because the rainclouds tapered off in front of me and the only problem I had was 20 minutes of stop-and-go traffic for some bridge maintenance up ahead. Peer Pressure's lights all work flawlessly so I wasn't worried about a night drive. The only one that doesn't work is the speedometer but after ten years I can gauge her speed by the sound and feel of the engine through the pedals.
I pulled into Catonsville sweating the last couple gallons of gas (I was a little over my 80 mile interval and dreading the nonexistent breakdown lanes on the Beltway), backed into the garage and shut her down after a long day's workout.
We covered almost 1,000 miles in three days, and she ran flawlessly. That truck never ceases to impress me. I am continually amazed at how lucky I am to have made the friends that share my hobby, and how willing they are to help and share their knowledge, as well as how lucky I am that this crazy purple-and-gold-and-red truck found me when it did. And special thanks to Brian, my best friend and Scout buddy, for talking me into this trip.